Feb 22 2004
MM Split-RIIA Low Voltage Balanced Phono Preamp
go to the PROJECTS section
Feb. 21 2004
MC Transconductor Split-RIIA Low Voltage Preamplifier
go to the PROJECTS section
Dec 12 2003
Do we need another SPICE?
a SwitcherCAD III Evaluation for Audio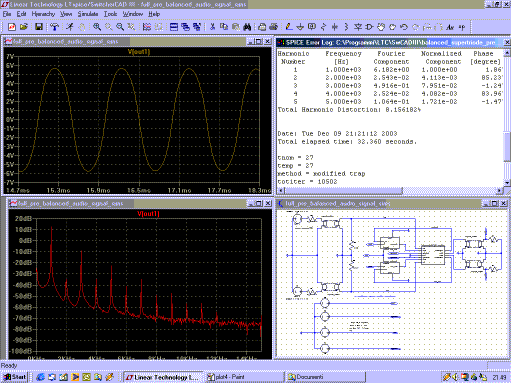 go to SPICE Section
Dec 11 2003
Bridge Circuits
go to the Design Techniques Section
October 2003
PCB for the Battery MM Phono Preamp has been finalized!!
go to the PROJECTS section
9th September 2003
6C45-PE in low-voltage mode
ggo to the PROJECTS section
15 January 2003
Article added in the AudioXpress January 2003
The LP Terminator - Engineer's Calculation for improved LP reproduction - by Raymon A. Futrell

The DR15A Horn- by Bill Fitzmaurice

Direct Heaters - A guided tour by Mark Kelly

The Zero Autoformer - by Paul Speltz

High Gm smart power tubes - Third Part: Practical Applications by Stefano Perugini
03 December 2002
Article added in the AudioXpress December 2002
Don't miss Nelson Pass' "Zen Variations Part 4: The Penultimate Zen"

Norm Thagard continues with the second part of his article on a 100W/Channel AB differential input amplifier.

Build an "against the wall" speaker by John Mattern.

Learn to design second-order crossovers by John Kerskovsky.

Tom Perazella examines Thagard's power supply design.

Revisit the 6C33C-B push-pull power amplifier as Daniel David improves on his original design.

A second look at High Gm smart power tubes.



24th November 2002
Is the GOMEZ a worthy alternative to SRPP?
The answer in the Design Techniques Section
Nov 2002
Consulting Services Activated!!
20th November 2002
Capacitorless Inductive RIAA/IEC Network Introduced!!

Go to the Magnetics Section Under TLR and LR Folder
Oct 2002
Article added in the AudioXpress November 2002
Norm Thagard presents a 100W/Channel AB differential input amplifier in the first part of this article.

An easy-to-build low-voltage tube hybird headphone/line amp--it's a good introduction to tubes.

A speaker-restoration project brings new life to a drum-head midrange.

Cornelius Morton helps take the guesswork out of complicated network crossover design.

Speaker expert, Dick Pierce, examines the best approach to take in connecting two speakers in his article, "Damping Loudspeakers in Series"

A look at the future in audio amplification with "Vacuum Tubes Again in Nanotube MEMS."

Working with TODAY's High gm Tubes by PERUGINI Part 1



May 2002
Article added in the AudioXpress 2002 Glass Audio Special
Glass Audio Project Book
from Audio Amateur Inc.

All-New collection of never before published articles on vacuum tube audio equipment. 12 construction articles including modifications and new designs of tube equipment. These articles contain parts lists, sources, construction details-everything you need to be able to construct these projects. An extensive resource section of advertisers provides sourcing for everything you need to build these and any other vacuum tube audio projects. Articles from some of your favorites including John Stewart, Joseph Norwood Still, Stefano Perugini, and others.

2002, 8" × 10½", softbound,
ISBN 1-882580-39-7. Shipping Wt: 1 lb.

March 1st 2002
Net-Broached Threads on PAEng concepts.....click here
December 16th 2001
The Tweakable DAC List for Transformer Coupled Output Stages in the Magnetics Section
October 15th 2001
An unique Dual Mono Single Ended 211-based Amplifier will appear on project section