Guide of TYPEFACE DESIGNER
ITCFonts.com
Download PostScript fonts and True Type fonts. ITC provides downloadable fonts from classic fonts to cool fonts.




Ambigrams by Stefan Gustavson
Introduction to ambigrams, information about how the writer got involved in them, recommended book, and some of the author's own ambigrams.




EsperFonto - Typeface / Font selection system - choose the most ...
An interactive typeface selection system, that helps enlighten on what type to use. It will suggest the most appropriate typefaces for the job.




Typologia: Studies in Type Design & Type Making
Reprint of 1940 publication authored by Frederc W. Goudy.


Contents I : II : III : IV : V : VI : The Story of a Type VII : The Design of Types VIII : The Designer's Problem IX : Details of Construction X : Making the Patterns XI : Matrix Engraving XII : Legibility of Type XIII : Fine Printing This electronic version of Goudy's Typologia is reproduced by permission of the University of California Press



info: TYPEFACE DESIGNER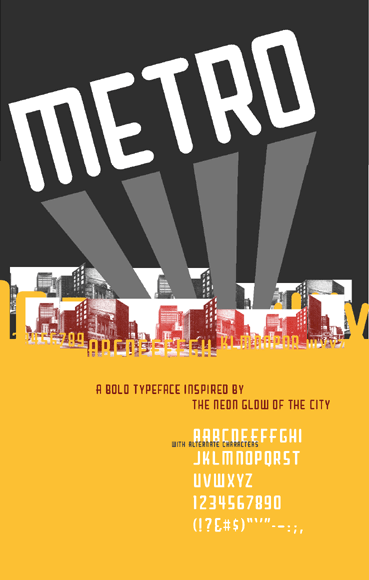 Photo by www.designingwithtype.com

ExZapf
Biographical information and illustrated catalogue of works exhibited at The Grolier Club in New York.


13 December 2000 - 10 February 2001 Curated by Jerry Kelly Perhaps no one in the twentieth-century has had more of an influence in the fields of type design, calligraphy, and typography than the noted German designer Hermann Zapf


Other fonts, such as Michelangelo, Zapf International, and Zapf Renaissance - among numerous others - are the mainstay of many of the finest graphic designers of today


Throughout the 1960s and 1970s Zapf was mainly a free-lance designer, with important work being done for International Typeface Corporation, URW, Hell-Digiset; Hallmark Cards; and numerous other major clients


Since 1972 he has lived in Darmstadt, Germany with his wife, Gudrun Zapf-von Hesse, herself a noted type designer and calligrapher


Along with highlights from throughout Zapf's career as a type designer, calligrapher, and typographer, the Grolier Club exhibition will display some exceptionally rare examples of Zapf's oeuvre, many of which have rarely or never been displayed before



AIGA - Zuzana Licko and Rudy VanderLans
Article and sample work. "Critical Conditions: Zuzana Licko, Rudy VanderLans, and the Emigré Spirit" by Michael Dooley.


The magazine that VanderLans published and art directed, and the fonts Licko developed for it, have stimulated designers to defy, and even overthrow, entrenched rules and to set new standards


Bay Area designer Chuck Byrne, who has closely observed their careers from the beginning, explains: 'In the last fifty years or so, making a reputation for yourself was basically a process of winning competitions, getting your work published, and going around pontificating to the world about how great you are


The issues, each built around a theme, have featured Ed Fella, Rick Valicenti, and David Carson from the United States, Vaughan Oliver, Nick Bell, and Designers Republic from Britain, several Dutch designers, and many others who were exploring new territory


'People read best what they read most' has become a credo for Licko and VanderLans and has been adopted as a rallying cry by designers eager to challenge preconceptions of type design and magazine layout


While Licko and VanderLans were being pilloried by traditionalists, designers who had once championed their work for its aggressiveness began to condemn it as too readily identifiable, and therefore unusable



360east | design, media, technology
Observations about design, pop culture, and technology from a Jordanian designer.


The Lebanese designer Zeina Maasri, who has co-developed this map, wrote: We have done this map as it can clearly reveal the siege that different cities/inhabitants have undergone and still suffer from, it also shows how Israel&'s fierce assault on Lebanon completely violates the Geneva conventions && international law relative to respect for human rights in armed conflicts, through its massive destruction of vital civilian utility sites and infrastructure



Adolphe Mouron Cassandre - Wikipedia, the free encyclopedia
Brief biography for the influential Ukrainian-French painter, commercial poster artist, and typeface designer.


The poster (1935) is Cassandre's most famous design Adolphe Mouron Cassandre (, –, ) was an influential Ukrainian-French, commercial, and designer

Benefits

Photo by www.calligraphersguild.org

Emigre Magazine: Interview with Rudy VanderLans
Questions and answers selected from interviews with Rudy VanderLans that have appeared in various small underground fanzines and websites.
What are the goals of the magazine? Our goal is to ask the question WHY over and over and over again to see what motivates designers and to figure out what role design plays within our culture


It's rooted in the history of design, our formal education in design, and our combined 27 years of practice as designers


How would you describe Emigre's editorial direction since the new, smaller, page size, as distinguished from the earlier issues? Instead of focusing on designers' intentions and designers' work, we decided to turn the tables and look at how this work is impacting our culture


Many designers simply do not see how it connects to them and their profession


How has the personal computer changed design? Before the Macintosh a graphic designer was dependent on a variety of professionals to realize a printed piece


Although designers were always able to design typefaces (with ink and paper) it was nearly impossible to then freely use these typefaces in a layout


Kind of like the designer's revenge on writing


In regards to legibility, the Dutch designer Peter Mertens once said it best: 'Typefaces are legible



Welcome to Fountain
The friendly typefoundry. A Swedish typefoundry with some very nice original faces.


To the individual designer looking for minty-fresh contemporary font goodness, we offer a catalogue of original fonts available for on-line purchase


Fountain is based in Malmö, Sweden, but since our designers come from all over the world, there are no limits to what you may find in our collection


Just fill out the form to the right by entering your email address and clicking on the "OK" button: Your e-mail adress: New typefaces, new designers, a company and a



Identifont - Identify fonts by appearance, find fonts by name
Online typeface identifier. Users are guided through a series of illustrated multiple-choice questions of features of a font to arrive at a font identification.


Flat-it 14th August 2006: Identifont now includes the foundry of original fonts by Japanese designer


Bogusky 2 17th July 2006: Identifont now includes the foundry of typefaces by designer



Goudy - In All His Glory
Biographic information and related links.


Goudy, one of the most popular and prolific American type designers, was born on March 8, 1865 in Springfield, Illinois


Goudy's career as a printer and designer began to grow with the fortunes of the press


As he progressed as a designer, however, his interests moved more toward the perfecting of the traditional roman typeface

TYPEFACE DESIGNER ?
daidala: words on letters
A blog by Jon Coltz. Features reviews of typefaces and observations from the life of a type lover.


[12], as well as a few others (e.g., Burke, Kobayashi) who appear to approach optical scaling as simply part and parcel of constructing a quality typeface, most designers of digital type have adopted a "one size fits all" modus operandi



Typotheque: Rudy VanderLans, editor of Emigre by David Casacuberta ...
Article written by David Casacuberta and Rosa Llop about the editor of Emigre.


This is a bit of an oversimplification, particularly since many of the designers who created &'Swiss&' design came from Germany


But there were distinct styles and methodologies that originated in certain countries, and when these styles were adopted by designers in other countries they always came out looking differently, because they added their personal touches


Compared to 10 years ago, there are many more books on design published, there are more design conferences, more design magazines, plus designers have websites where they show their work


There is a strong type design tradition in Holland, and many of today&'s Dutch type designers have passed through this one program, in The Hague, where Gerrit Noordzij and his son taught


Talking about Dutch designers, there are people like Letterror who argue that designers should program, that they should make their own tools


What&'s your view on this? Do you agree with them? Should designers be programmers? Well, it is easier said than done, isn&'t it? I understand what they say


But it doesn&'t necessarily make you a better designer



XSL design tool; XSL template designer
Includes a Windows GUI that simplifies designing layouts for complex XML forms and a runtime Engine that merges a layout with XML data to produce a PDF via ...


Professional Formatting Solutions Last updated: November 30, 2005 XSL Report Designer V2.0 The quickest and easiest way to transform XML files into reports and forms with XSL-FO


With Antenna House XSL Report Designer's user friendly GUI you can quickly and easily design complex forms and reports from both of your XML data and TSV/CSV data that is converted into XML data automatically by XSL Report Designer; then merge your XML data to produce XSL-FO for formatting with Antenna House XSL Formatter


Now you can even save your designs as XSL Stylesheets! All with Antenna Houses XSL Report Designer! What is XSL Report Designer? Antenna House XSL Report Designer V2.0 is two software products in one


With XSL Report Designer you can easily map the relationship of each element of your content and how it should be placed, formatted and processed in the final report or form


Creating the layout can now be done without programming using the intuitive GUI of XSL Report Designer


You can then save your design as an XSL Stylesheet or you can save it as a project file that can then be used with XSL Report Designer's Runtime Engine to produce XSL-FO with your XML data and layout merged into one file



Typographica. A Journal of Typography.
News, observations, and open commentary on fonts and typographic design.


It might have told you which subway platform you needed, or tried to sell you investment services or vacation getaways in the ads in your morning paper &… How did a typeface drawn by a little-known Swiss designer in 1957 become one of the most popular ways for us to communicate our words fifty years later? The film is studded with the stars of typography: Erik Spiekermann, Matthew Carter, Massimo Vignelli, Michael Bierut, Wim Crouwel, Hermann Zapf, Stefan Sagmeister, Jonathan Hoefler, Tobias Frere-Jones, Experimental Jetset


HANDPICKED UNSEEN Foundry: Designer: Typefaces: HAPPENING 9&–13 Aug 2006, Boston 27 Sept &– 1 Oct 2006, Lisbon ELSEWHERE News: : : : Blogs: : : : Reference: : : : : : : Talk: : : SUBMIT Blogtopper Count: 152 (newest 1 up &– 06/2006) or Enter your email to subscribe: Typographica is powered by / and



Font packs, Decorative fonts, Calligraphic fonts, Text fonts ...
Offers a large variety of fonts for Windows and Macintosh, text fonts, display types, Calligraphy and handwriting, education, Foreign, special fonts and custom ...



Wedding Stationery at WeddingCardPrinters.co.uk
Online wedding stationery shop that allows you to customise cards and see the finished result in realtime. You can save dozens of designs in an album to show ...


Don't worry if you're not a designer, as all of our wedding cards default to a style that we believe compliments the overall feel of the card design



TypoBlog (Joe Clark)
Medium sized article, subtitled "How personal typographic Web sites are giving the musty, elitist field of typography is a stiff kick in the keister"


Some opinions of his are so sure and informed, nothing at all like I would have carried off at 21, &" says the Vancouver Pompignan book designer/editor


Actually, even those fonts are insufficient; the Web tosses more obstacles to simple legibility in the designer&'s path


Unlike Allen, Crewdson, and Michaelides, Porchez is an actual type designer (, and a range of for Le Monde , among others)



Stylegala - Web Design Publication
A showcase of graphic design for the web. Particularly supports coding standards.


Check it out! 08 aug at 23:36 by Kai [] The Poynter Institute's eye tracking studies have done a disservice to online publishers and to designers, according to this article


08 aug at 19:36 by designergc [] A look at the differences between relative and absolute units of measurement - as set out by the WCAG 08 aug at 13:16 by Smah [] Fresh off the presses